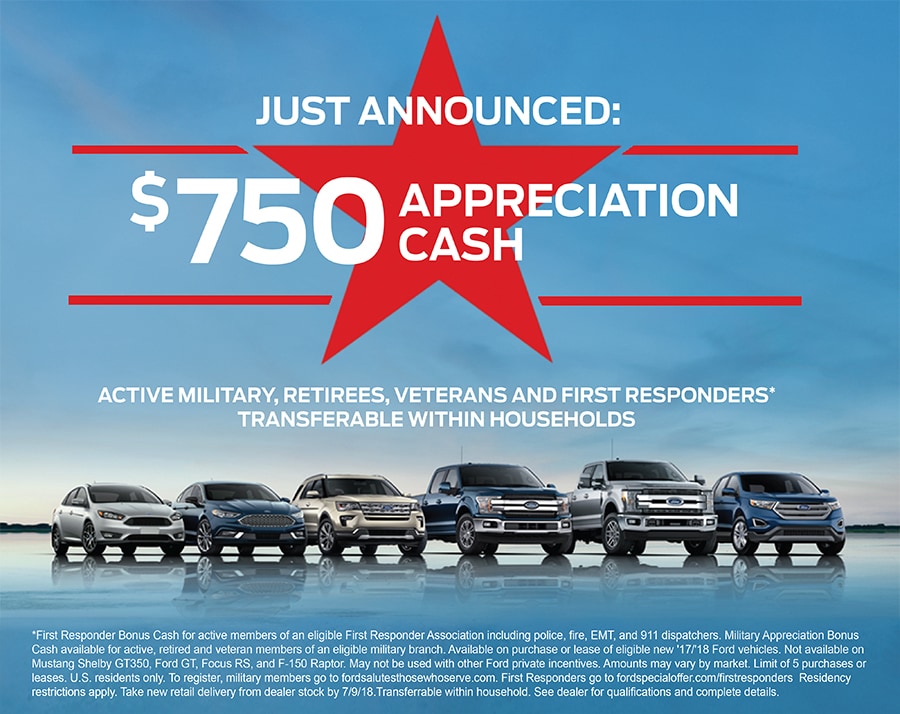 $750 for ALL Military / ALL Veterans / ALL First Responders
Ford Motor Company is proud to celebrate Memorial Day, Flag Day and July 4th by honoring our Military Heroes and First Responders. Ford is enhancing the national Ford Military Appreciation and First Responder programs to a $750 offer effective May 15th through July 9th. During this period, the Military Appreciation Program is expanded to all Veterans regardless of separation date. Upon conclusion of the offer on July 10th, the program will revert back to $500 Bonus Cash for only those Veterans within 2 years of separation. A summary of both programs is below.
 Military Appreciation Program 
·        Effective May 15th - July 9th
·        Additional $250 ($750 total) and expanded to all Veterans (includes Veterans beyond 2 years of discharge)
First Responders Program
·        Effective May 15th - July 9th
·        Additional $250 ($750 total)
Compatibility
·        Compatible with AXZD Plan Sales Types
·        Eligible Vehicles: New 2017/2018/2019 Ford and Lincoln vehicles (offer not available on Focus RS, Mustang Shelby® GT350/GT350R, Mustang BULLITT, Ford GT, Raptor and 2018 Lincoln Navigator)
 Registration and Verification of Eligibility
·        Customers must verify eligibility via the following websites. Once verified, customers will instantly receive a certificate number that will be used to claim the program in VINCENT. Certificate must be obtained PRIOR to purchasing their vehicle.
·        During the registration process, customers will be verified by "ID.me", which is a 3rd party verification service that is linked to the government databases that contain information.
·        Once verified, the customer will receive the certificate number, which in turn needs to be provided to the dealer to be claimed in VINCENT.
·        NOTE: Customer must use their email address when registering for the Bonus Cash. Dealerships should not register customers using a dealer email address. Please reference the updated Quick Reference Guide for additional tips regarding the affinity verification process.
·       Military: https://www.fordsalutesthosewhoserve.com/Home/Login
·
First Responders: 
https://www.fordspecialoffer.com/firstresponders/Home/Login